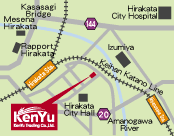 go forward to northeast from south exit of Hirakata station, 100 metres going forward to south of Katano Line , Keihan.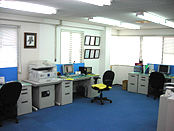 Supplyment(Export,Import, domestic Sales)
The human body can not fully get all of the nutrition only from everyday diets. For enhancing the original healing power and immunity of human beings, preventing disease, helping recovery from disease, the necessity of supplemental diets is required in modern society.
The nutritional supplemental diets are produced under the strict quality control by Kenyu Trading Co.,Ltd. We never use artificial flavors, colors or chemical preservatives. We are developing new products combining raw materials and ingredients, which will be the reliable partner of people's healthy life in today's aging society.
Supplyment(Export,Import, domestic Sales)
1. Chlorella, Chlorella Powder, CGF Liquids
 
2. Royal Jelly
 
3. Royal Jelly Powder
 
4. Proplis
 
5. Dextrose Monohydrate (for foods,plant fermentation use)
 
6. Squanlen
 
7. Calcium
 
8. notoginseng (organic & conv.)